Dear Friends:
Thank you for being with us today, and thank you especially for welcoming Roi so warmly over the past few years.  He looked forward to bridge club, playing golf with you at CCE, occasional fish fries and Lake Geneva Symphony galas, "the best Easter dinner ever" at Helen's just a few weeks ago, arguing politics if you'd let him, seeing you at Steel Beam Theatre or wherever Donna or Amy were performing, being part of family celebrations and part of Amy's new family, being part of the group's social life at the original Lake house and then the Farm, enjoying life.
We are grateful, too, for the support of so many over the past months, especially the home care nurses, Miss Noriega, Jackie and Sharond, as well as Travis and Charmaine from ARIS; Catherine from Rainbow Hospice, and the incredible Catherine Harding from the Illinois Cremation Society.
We were grateful to have each other and for you.
God has indeed blessed us all with His love and peace.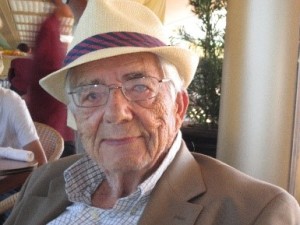 Obituary 
Inventor, bridge expert, athlete and theater angel LeRoi E. Hutchings passed away peacefully at home in Oak Park on May 20, 2014.  He was born August 3, 1920 in Northfield, MN to Jessie F. Hetzel and LeRoi E. Hutchings, Sr., and lived most of his life in Crystal Lake and Mt. Prospect, IL.  A Ph.D. in chemical engineering, he was in research at Pure Oil Company (Crystal Lake), Great Lakes Carbon Corporation (Elizabethton, TN) and UOP (Des Plaines) and held 70 patents.  He earned his bachelors and masters degrees in engineering at the University of Michigan in 1943 and 1944 and his Ph.D. at Northwestern University, where he met his wife of 57 years, Mary Jo Calnan, who passed away in 2008.  They have two daughters, Mary Hutchings (William) Reed (Chicago) and Donna C. Steele (Oak Park).  He is also survived by three grandchildren, Amy (Matt) Wolski (Naperville); Sarah L. Steele (New York City), and Peter W. Steele (formerly St. Charles) and one nephew, Fabian (Jana) Beltran (Ann Arbor, MI).
A man of many interests and talents, he was an expert bridge player who invented the game ThreeForBridge, and earned numerous trophies in golf, tennis and bowling.  As additional hobbies, he tailored women's clothes, built model ships, designed furniture and also enjoyed sailing and gardening.  He was a founding supporter of Steel Beam Theatre, St. Charles, IL.
Services will be private.  Memorials may be made to Steel Beam Theatre, 111 W. Main Street, St. Charles, IL 60174.