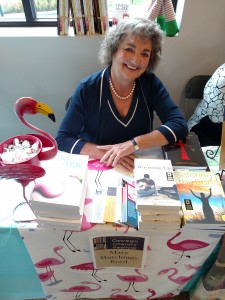 I recently attended the Oswego Literary Festival at the beautiful Oswego Library District Oswego Campus.  Forty-six authors were there to hawk their works, but I doubt that we sold 46 books among us.  This could be depressing.  OK, it is depressing.  But we still made lemonade. First, we were all in it together; it was not the "waste of time"  I once would have been inclined to think it was.  There is a certain creative energy and empathy when 46 authors get together in a room, all hoping to sell books.  Yes, I do look at other people's books, judge them by their cover, check out the demeanor of the author and try to decide whether my book is "better."  In quality of production, the answer is often "yes," (thanks to Ampersand, Inc. ) I can't judge the insides.
One of the great things about a literary festival–even if you don't sell any books–is that you get to meet readers, and in talking to them, you realize there is a reader for every author.  I was delighted in a way when a woman passed by my literary mainstream fiction saying, "I love ghost stories," and I could stop her and say, "Wait, you just passed up an author three chairs away from me whose book is called "Ghost Stories."  I didn't see whether he made the sale, but he got to talk with a reader, and maybe she'll remember his name.
And you learn things, both from readers, and from writers.  One reader asked me to describe each of my four novels, and I gave her my one or two sentence description of each, after which she said, "They sound great.  You have a good description of each one.  I appreciate your telling me about them."  Of course, I gave her a bookmark for each, and with any luck, some day she'll pick one of them up and go online and order an electronic version for her Kindle or Nook or iPad.   Lesson learned:  All the talk about 'hook" is real.
More than one reader strolled by, stopping to smile at the pink flamingo on the cover of ONE FOR THE ARK.  Another picked up WARMING UP and asked about the homeless boy playing his guitar on the cover.  Lesson Two:  Readers DO judge a book by its cover.  (Kudos again to David Robson, who designed the covers of ONE FOR THE ARK and SALUTING THE SUN, and the interior of all of my Ampersand books.)  Lesson Three:  Keep it clean, so it pops!
Alongside the $15 for my first–and only–sale (to someone who saw the book on the raffle table and loved the cover!) and the opportunity to meet readers, I also learned a bit more about hands-on marketing. Most of the authors had worked on their displays–some had professional racks, but most did not–and featured objects from the book, book marks and stuffed animals or coloring pages for children.   Several authors, including myself, had candy, and themed table coverings.  (I have a pink flamingo table covering which my sister Donna Steele made from a remnant she found at a fabric store–I could have sold it several times!!)Childrens' author Kathy Elstad goes to great lengths to connect with her readers, offering both coloring pages and an interactive website, and free play-dough (ah, I thought, a good alternative to candy for Halloween for all the yuppie parents in my building.)
What impressed me most, however, was the indomitable spirit of my fellow authors.  They keep plugging away, applauding each other for our minor successes ("I sold a book!") and planning the next one.  My table mate Donna M. Zadunajsky writes every day, plans ahead, has two different series of thrillers going, and manages a full array of social media, including video trailers for her books.  She's had success in contests and works hard, but in the end, she confirms what all the authors there know in their guts:  we do it for the sake of writing, not the sales.
And, while sales are nice, whatever made me think that people who go to library-sponsored lit fests are there to buy?  Library users BORROW books.  They don't buy them.  The proof of that is that at the AAUW Lake Geneva Chapter's Soup and Sign event in September, I sold 41 books–a personal record for a single, non-launch event.  So, you see, literary festivals serve different purposes.  And you never know when you might meet that "alpha" reader who makes your book a book club success.  If you don't show up, you could miss her, so stay open, have fun, and be grateful for each and every sale.