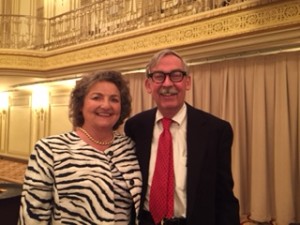 I was so humbled and honored to receive LAF's Champion for Justice Award at LAF's annual luncheon at the Palmer House.  So surprised, and thrilled that Michelle Obama sent a video (soon to be posted on LAF's Facebook page) .  This is the gist of my acceptance speech: 
I'm so very touched by Michelle's video. I just have to say my parents would've been thrilled to see it. They both shared Michelle's commitment to service, justice and equality and they taught my sister and me that any smarts and opportunities we were given were given for the purpose of helping others.
And thank you, tom, for your introduction. To me, you have always represented the highest ideals of our profession, and have encouraged pro bono as not just as an obligation of our profession, but also as a privilege. Thank you, too, Maja. You have been a special friend, and an exceptional leader of LAF.
I'd also like to express my gratitude to Winston & Strawn for supporting my pro bono work the past 25 years, and in particular, Kimball and Karen Anderson. Thank you also to Larry Desideri at Winston for co-chairing this event the past few years.
And special thanks to Diana White and Gloria Friedman, who have courageously led LAF in new directions and taught me how to be an effective board member.
Thanks also to my sister Donna Steele, my career-long friend Christine Albright and my wonderful husband, Bill. You 3 have always been there for me.  Lastly, i am grateful to all of the law firm and company sponsors and individual donors to today's lunch. You are LAF's lifeline.
There are so many people who deserve this award more than I—many who have undertaken time-consuming and difficult representations, many who have given a lot more money. So I feel like I stand here today representing all of you–LAF's passionate volunteers, board members and supporters who do everything you can to further LAF's mission. LAF needs every one of us to do what we can do, whether that is big or small, whether it's planning a fundraising party—something I'm good at—or making a gift or taking a case.
I went to law school in 1973 because law seemed at the time like an instrument of social change, with the power to solve society's problems. For a variety of reasons, some having to do with the status of women in the profession, I became a big firm lawyer, and as I progressed in my career society's problems felt bigger and more remote, and I felt smaller and more powerless. It was tempting to say I couldn't make a difference because I wasn't involved in the legislative process or the big constitutional cases I'd learned about in law school.
But early on I was introduced to Lawyers for the Creative Arts and then to LAF. Representing low-income artists and helping LCA and LAF grow as organizations were things that I knew how to do.   These have been among the most gratifying experiences of my legal career.
Working with LCA, LAF and with my other favorite, The Night Ministry, has shown me that a big problem is often just a cluster of small problems, to be solved individually.
Strong individuals build strong communities. For individuals to be strong, they must have equal access to justice and as our slogan says, equal justice starts here–with LAF. LAF is not just a legal services organization, it is a community-building organization.
And equal justice starts with us.
Many of you have significant legal skills. You can volunteer your time.
Maybe you feel you don't have the time right now, or the right expertise. You can support the 70 lawyers of LAF, like Dan, whose full time job is leveling the playing field and making sure that people like Bhavika can get back on track.
You can do that right now. I see many of you have your smartphones in hand. You can help us raise an extra $10,000 today. For those of you who didn't buy a ticket but would like to make a personal contribution in addition to your firm's, text "LAF" to 243725 and click on the link in the response text. You will be asked to donate what you can. That's 243725.   At a luncheon as successful as this one, you might think $10,000 won't make a big difference, but believe me, it will. $10,000 makes it possible to keep 12 families from being evicted from the only housing they can afford or helps 38 veterans gain the benefits to which their service entitles them.
And $10,000 is only $25 from 400 of you, or $50 from 200 of you or $500 from 20 of you. You get the idea. Text "LAF" now to 243725. Do what you can do.
Then, you can inspire others. You can like LAF's Facebook page and when it's posted, share Bhavika's story. You can tweet that you are here today and that you support the way LAF makes communities better, one problem at a time.
Today, together, all 500 + of us in this room can make a difference. We can be of service. Let's all do what we can do.
Thank you.